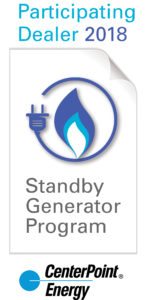 We are excited to participate with CenterPoint Energy to provide exclusive discounts on backup generators to their Houston-area customers.  If you are a CenterPoint Energy customer you can now get a Free 5-year Extended Warranty with the purchase of a KOHLER generator*!
Give us a call at 281-259-6500 for a free, no-obligation quote.
*Only available to qualifying CenterPoint Energy customers. A KOHLER® FREE 5-year extended warranty is only available on qualifying KOHLER generators purchased through CenterPoint Energy's 2018 Natural Gas Standby Generator Program participating dealers between September 1 – October 15, 2018. If installation cannot be completed before October 15, 2018 a signed agreement must be provided (dated between September 1 – October 15, 2018) to Kohler by October 15, 2018. Installation must be completed no later than December 15, 2018, at which time rebate form and invoice must be submitted. See KOHLER warranty for complete list of qualifying products and terms. ​​Offer valid on the following Kohler generator products: 8RESV(L), 10RESV(L), 12RES, 12RESV(L), 14RESA(L), 20RESC(L), 20RESD, 24RCL, 30RCL, 38RCLB, 48RCL(A), 60RCL, 80ERES, 100ERES, 125ERES and 150ERES generators.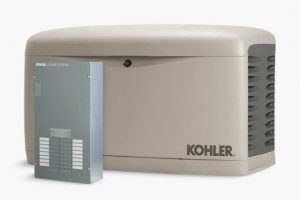 Please contact us today to discuss what generator best fits your needs.
Visit CenterPointEnergy.com/Generator for more details on these offers (or view the disclaimer here).