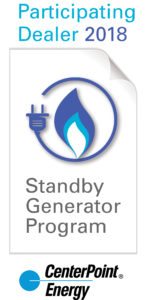 We are excited to participate with CenterPoint Energy to provide exclusive discounts on backup generators to their Houston-area customers.  If you are a CenterPoint Energy customer you can now purchase a new KOHLER generator with NO INTEREST and NO PAYMENTS for 12 months**!
Give us a call at 281-259-6500 for a free, no-obligation quote.
This financing offer is only valid on KOHLER Generators purchased between July 16 – August 31, 2018, through a CenterPoint Energy Natural Gas Standby Generator Program participating dealer and financed in the Kohler Generator Consumer Financing Program through GreenSky, LLC. Offer valid on the following Kohler generator products: 8RESV(L), 10RESV(L), 12RES, 12RESV(L), 14RESA(L), 20RESC(L), 20RESD, 24RCL, 30RCL, 38RCLB,
48RCL(A), 60RCL, 80ERES, 100ERES, 125ERES and 150ERES generators.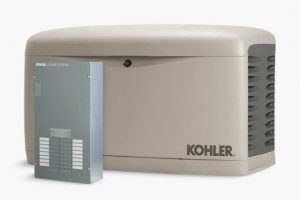 Interest is billed during the promotional period ("promo"), but all interest is waived if the principal balance is paid in full before the end of the promo. Financing for GreenSky consumer credit programs is provided by federally insured, federal and state chartered financial institutions without regard to race, color, religion, national origin, gender or familial status. Other terms and conditions apply.
Please contact us today to discuss what generator best fits your needs.
Visit CenterPointEnergy.com/Generator for more details on these offers (or view the disclaimer here).